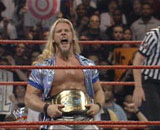 Real name: Chris Irvine
Birth Date: 9th November 1970
Height: 6'
Weight: 231 pounds
Finishing Move: Walls of Jericho (also called Lion Tamer)
Trademark move: Asai Moonsault (also called Lion Sault)
Favourite Quote: "Never e..e..e..ver again"
Career Achievements: WWF Intercontinental title (2) WWF Euporean Champion, WCW Cruiserweight title (5), WCW Television title, ECW Television title

Since Jericho's intial joining of the WWF as a heel ,Y2J has gradually won over the fans and risen to the heights that he is at. Chris never really fitted in in the WCW and so decided to join a greater federation - The WWF ! So far Y2J has managed to win the WWF European title and is a two time holder of the WWF Intercontinental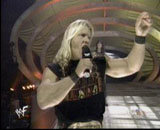 champion. He originally won the IC title from Chyna, with a massive story line to go with it which eventually resulted in Y2J capturing the title , and a new storyline started with Chyna sticking with Jericho due to "mutual respect" for him. The partnership ended when Chyna turned her back on Jericho to go to WWF newcomer , Eddie Guerrero and won Jericho's title which at the time was the European one. Currently Jericho is chasing the IC title which is held by Chris Benoit, unfortunately at Judgement Day Jericho was defeated by Benoit, but im sure Jericho will continue in the title chase.
---
Think you know Y2J and the WWF? Check your knowledge in the quiz! Click Here